iphone ringtone

"Bestieeeee!" Arnell exclaimed when she answered the phone for her best friend, Drea. "hey girl what you doing right now?" Drea responded to her excited home girl all dry and she sounded like she had been crying before getting on the phone. "Um nothing right now but u good you sound like you've been crying." Yea I'm straight girl but I need to talk to you today…can you come over?"
Drea tried to sound more like her normal upbeat self but it didn't work because she and Arnell have been super close since 7th grade. "Yea girl when do you need me to come?" "Now!" That was all Drea said before she hung up the phone. Arnell got dressed in her red graduation t-shirt, jean shorts, and her favorite red vans. Ever since she got those shoes that girl ain't stopped wearing them since.
She walked down to the bus stop and while waiting for the bus this fine, tall, chocolate boy walked over to Arnell and smiled.
"Hey you know when the next bus come?" "Um 4 minutes", Arnell answered looking up from her phone noticing the boy's pretty grey eyes and fresh waves.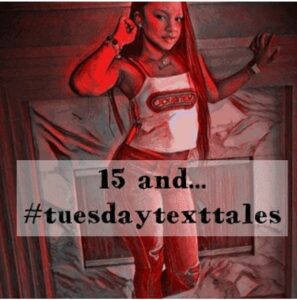 "Oh alright thank you gorgeous", he said stepping a bit further from Arnell and pulling out his phone to pass the time until the bus game. She couldn't help but take glances over at him every so often. His skin was clear and glowing like he had on the most golden highlighter in the world. Right when the bus came she stepped on and tapped her card but the scanner came back saying the dreaded "insufficient funds". Arnell rolled her eyes and went into her pocket to pull out a dollar until "pretty eyes" from earlier tapped his card twice and said "it's cool shortie I got you". "oh thank you", Arnell said.
Then he did that thing when boys out their hand on your hip and slide past you while saying 'excuse me' knowing good and well they pushing up against your butt. He sat down in one of the only  available seats and got back on his phone.
She finally made it to Drea's house and went straight up to her room. Arnell was excited to tell her best friend that she had finally met a guy that peaked her interest but when she heard Drea crying from the bathroom she remembered that it wasn't the best time for boy talk. Arnell calmed herself and went into the bathroom to find the happiest most upbeat person she knew more broken than she's ever seen anyone.
.
.
What could break her this bad to the point where she's lying on the bathroom floor alone looking like she questioning life? "Drea, girl what's wrong come on talk to me I promise I'mma always be here for you and that includes right now." Arnell didn't know what to do. Usually it was her having the crisis like that time she thought she was pregnant even though she's a virgin.
.
.
Drea was so good at comforting and helping find the silver lining in everything. Drea sat up from the floor and simply handed Arnell a plastic stick." What's this?" she asked but she obviously knew already. "I don't even really know the father. Like I know who he is but we only went out 3 times before we smashed and then we decided to leave each other alone. I'm almost 2 months Arnell, my mamas gonna kill me and this baby when she finds out!
.
I always wanted kids but not THIS EARLY" Arnell was at a loss for words. Drea was only fifteen and about to have a whole baby. And by some dude she doesn't love, " Drea is this for real?" "Yes Arnell damn! help me figure this shit out". She didn't know what it was but something in Arnell snapped and instantly she became all about business. If Drea was really pregnant she wasn't doing this shit alone. "Ok first we gotta tell your mom. And I mean tonight. I'll be there with you and next we have to start saving for either an abortion or to bring a kid into this world. Pick now" "I'm keeping it period ain't nobody gon change my mind about." "Ok and you have to let the dad know to so that he can at least decide if he wants to be in the child's life and who is the dad anyway?" " His name is Jai.
I met him at the mall but we haven't talked for about 6 weeks." Drea recalled feeling ashamed. After the conversation the girls waited for her mother to get home and Arnell prayed over Drea to keep her and the baby safe and healthy. The sound of the door opening startled the girls but then they remembered how serious their situation was. The girls walked downstairs and you could hear their hearts beating through their chests. " Hey arnell Sweetie how are you?" " Hi Ms. Monroe I'm good how was work?" She was trying to create small talk before saying the real reason she wanted to talk. "Hey mama can we talk" Drea said squeezing the life out of Arnell's hand. " yea sure baby what's up?" 🤷‍♀️
.
.
ok so today I felt really sick so I went and bought a pregnancy test…" "Andrea Monae what are you telling me?🤨 Girl I swear if you tell me are caring some lil boys child I am going to be so pissed" Arnell and Drea stood silent. Her mom said her government meant so you know she was serious. Tears welled up in Drea's eyes and rolled down her face because she knew just how much she disappointed her mom. " I had you at seventeen and  Andre was already three do you know how hard it was to be a mom go to school and work to provide for all of us? Baby you seen me struggle through the life that you're about to have. Why do you wanna go through something you know is a difficult life. How far along are you?" Drea just stood there listening to what her mom was saying because she was right. She knew exactly what being a teen parent was like. Her mom had her first baby at fourteen, her older brother had a kid at sixteen and now she was carrying her first child at fifteen.
‍
Girl answer me when I ask you something! " Drea jumped but still couldn't seem to speak through her shame. "She's two months, her and the father are broken up but she's going to let him know about the baby as soon as possible and we are working on a financial plan to pay for everything the baby will need."
.
.
Arnell answered for Drea feeling bad for her friend and understanding how scared and fragile she must feel. "Arnell sweetie I love you and I appreciate you being here for Drea all this time but this is a family matter so you need to go home." Arnell was surprised by her response but respected her wishes.
.
.
She went upstairs grabbed her things and headed out the front door to the bus. She made it just in time for the bus that was about to leave her stop. She got on the back and sat alone on the almost empty bus, there was an old lady with a little girl and some dark skin boy around her age. .
.
Arnell pulls out her phone and was scrolling through her apps until some one came and sat next to her. "Hey Ariel " the boy said . Arnell looked up confused to see "pretty smile" seated next to her grinning at her and looking at her with those gorgeous eyes. " what did you call me g?" Arnell asked with a confused smirk. "Ariel that's yo name right" he responded. "Boy no  I'm not no Disney princess my name is ARNELL A-R-N-E-L-L"  she said as if she was dumbing it down for a kindergarten class." Awe my bad g I mean ARNELL" he said back mocking her." . " Whatever" Arnell said nonchalantly. "
what's the matter with you, you was happy earlier now you acting all stand-offish?" "you said that like you know me or sum" arnell said with a little bit of an attitude even though she knew exactly what he was talking about. "
Well I would like to get to know you if that's cool with you shorty" he said back with that cute smirk on his face again. Yea I'm cool with it. Gimme your number and I'll text you.
They exchanged numbers and then they talked for a little while before Arnell reached her stop. She got home got in the shower put on her pajamas and texted Drea. "Girl are you ok what happened when I left?" "Yea I'm cool g we just talked and we came to the agreement that I can keep the baby and live at home but I have to get a job and raise my own child." "Well that's good at least she didn't kick you out right?" "Remember that the start of your child's life doesn't have to be the end of yours but have you talked to the dad yet?" "Um yea I texted him that we needed to talk but I haven't gotten a response yet." 🤨
7 months later… It was 2 weeks before Drea's due date and everything seemed to be working out. The girls were back in school but it was a little different. Drea had to FaceTime into her classes from home because she could give birth at any moment.
Arnell and "pretty smile" had been talking non stop since that bus ride. They went on a few dates and started catching feelings. They were taking things slow but it wouldn't be long before they made it official.
Arnell just knew that when he asked her out that weekend that he was gonna ask her to be his girlfriend. Arnell had been telling Drea everything about "pretty smile" and how much she liked him. Drea would get annoyed sometimes but Arnell just assumed it was because she texted Jai six months ago to tell him about the baby but he never responded.
She thought telling him had to be done in person because it would be impersonal and rude to do it over the phone. They found out Drea was having a boy and since the gender reveal no one has stopped buying clothes.
Drea hadn't told anyone the name but everyone was dying to know. One night while Arnell was out bowling with "pretty smile" she got "THE CALL" from Drea's mom . A rush of excited stress came over her. "I need you to drive me to he hospital." Arnell said snatching the boy's attention away from the very intense game. "Why is everything ok ?" "Nothing everything is great my friend is having her baby." 
They arrived at the hospital pretty quick… and soon, Khalil Arnell Jackson was born.
When Arnell heard the name she was brought to tears and couldn't help but break down. After Drea and baby Khalil got cleaned up Drea's mom, Arnell and Drea's brother Andre went in to see the newborn baby and first time mommy. The baby was so Cute!
He had beautiful medium brown skin even though Drea was light, a head full of dark hair like Drea but one feature that stood out quite strong . He had ice grey eyes that Arnell swore she had seen before. As Arnell was getting ready to leave the hospital she realized that her crush and best friend had never met. She called him in to see the gorgeous baby and also to meet her bff. As he walked into the hospital room and saw Drea he looked like he had seen a ghost." Andrea!?!" Andrea stared at him and instantly remembered everything. She was looking at where her child got his eyes." Hey Jai, meet Khalil, Your son.
Arnell's heart dropped as she realized her crush was her best friend's baby daddy
Damn…