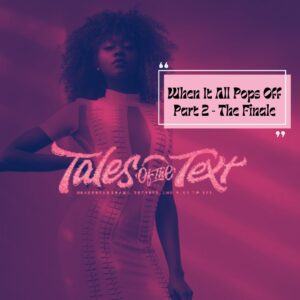 When Minx, a popular Black girl blogger, discovers her number one fan and stalker has orchestrated a triple homicide murder, she must find a way to use her quick thinking to save her and her friends' lives before it's too late.
Minx arrived to her best friend's apartment thinking she finally caught a break and caught Ava red-handed, but she ended up getting hit on the head. A fan of hers had taken her and her best friend hostage, trying to get her to join him on a joint YOUTUBE channel and start a new life together. With Ava now being framed for the murder and Coco Douglas being killed by the fan, Minx had to make a plan to save her and her friends. 
"If it's one thing I learned, it's that life is too short to live solely for the Internet. And IG no matter how much I love my fans and my channel, I need to appreciate the people I have in my life."
In this episode, you will learn the following:
1. What secrets does Minx have to uncover to save herself and her friends from a psychotic stalker?
2. How will Minx balance her newfound fame and the importance of treating people better?
3. Will Minx and her friends be able to escape the clutches of a murderer and secure their media fame?
Other episodes you'll enjoy:
https://apple.co/3jo7PCh – When It All Pops Off – Part 1
https://apple.co/3XQQNf7 – Shared Ride
Connect with us: I