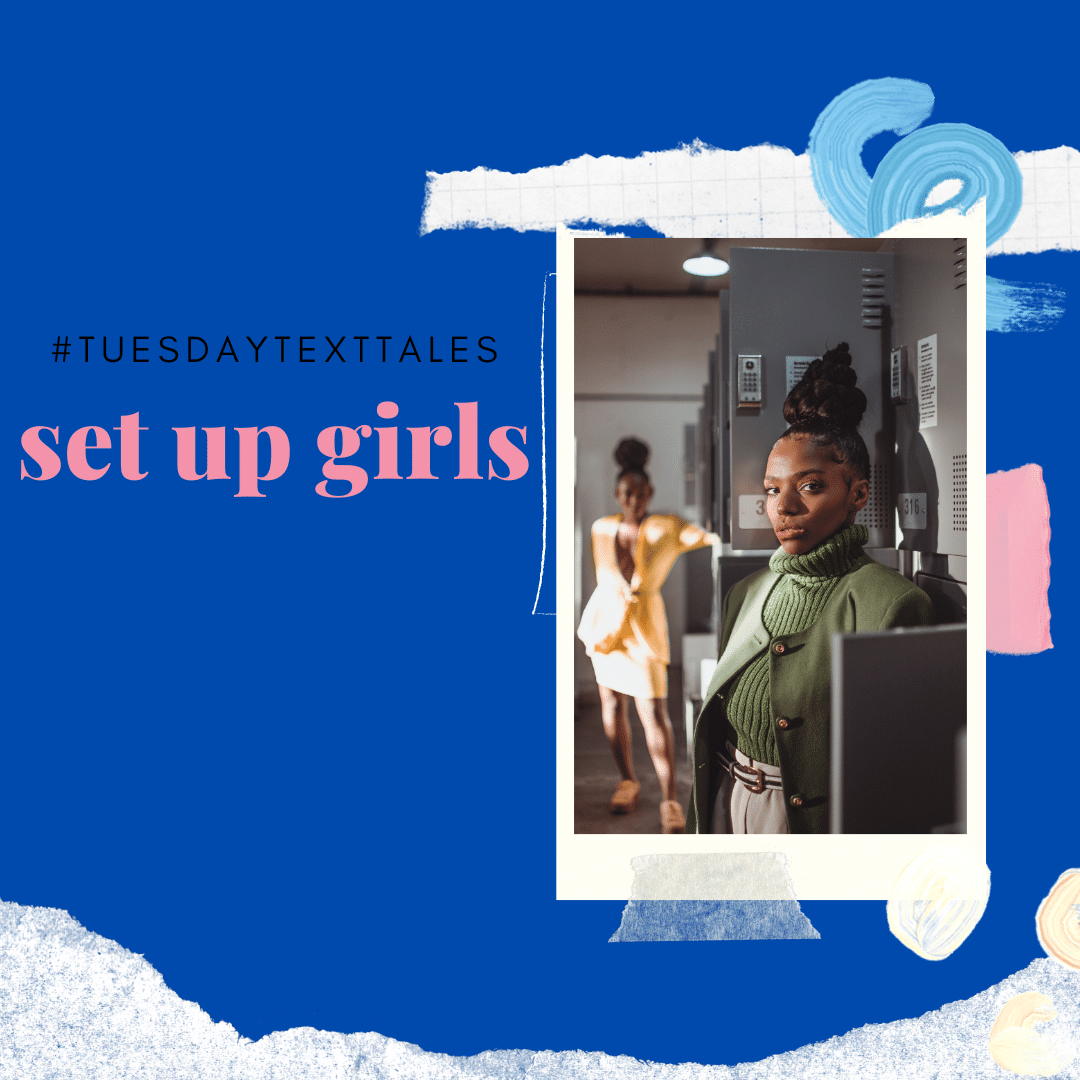 Leila and Arci were everybody's favorite sisters. They were funny, gorgeous, had style, and were nice to about anybody. They were the perfect  pair. Leila was only a year younger than Arci, but she was shown the same respect as her big sister. Cause if you crossed Leila you better pray Arci doesn't hear about it; which she will, she always does.  The girls were out on summer break. They were excited because they've been planning it out since spring break. They were planning on doing the most outrageous thing they've ever done. And shit, if they didn't almost die it didn't count as summer. The first thing on their agenda was to head down to Miami to visit their cousin Tonya. Tonya was known for being wild. At eighteen, she was two years older than Arci and three years older than Leila.  The girls couldn't wait until they were down there.  They knew once they were out, the adventure was starting
"Yo, I can't wait to hit Miami," Arci said checking out how she looked in her newly bought swimsuit in the mirror, "I'm going to pull hella dudes in this".
"Not with that little booty. "Leila said teasing her sister "shut up mosquito bites. Grow a chest before you try to come for me young man. Thank you so much. "Arci replied. The two girls always made jokes about arci having no butt and Leila having no boobs, but they both new they were cute no matter what they lacked. Guys knew it too, which is why they never had to worry about who they could and couldn't have. 
A couple days later the girls found themselves in Miami. They've never been more excited. They felt good, they looked good, and they knew they were going to be good. All they had to do was get to their cousin's house and they'd be golden. 
"Leila! Arci!" someone called to the girls. They recognized the voice from anywhere. It was their crazy cousin Tonya. Although they recognized the voice, they barely recognized her. Tonya had definitely had a glow up since the last time they saw her. She lost her classic ponytail and decided to straighten her hair. She had glowing skin, her teeth were straight from her braces and she was obviously hitting the gym. She looked like she could be Leila and Arci's long-lost sister. The girl was bad now. 
"Hey yoni!" Arci squealed at her cousin, "look at you. You've changed girl."
"yeah, that's what a little bit of sun and happiness will do to you. Now come on we got a lot of catching up to do. We can start once we get to my place. Who has aux for the car ride, though? "Tonya said through a laugh
" Me, duh" said Leila.
The girls were giggling and talking on their way to Leila's car when they were stopped by a whistle. They were used to the attention, but Tonya decided to make it interesting.
"That's one of the dudes who go to my school. His names Bryan. His dad's loaded. He's been trying to get at me ever since I ditched the ponytail. "Tonya whispered. 
Bryan started to approach them.
" Just act natural and be nice." Their cousin instructed.
"hey Bryan!"
"Whats up tonya. I haven't seen you in a while. And it seems like you made some new friends." Bryan said eyeing Leila and Arci.
" yeah these are my cousins. They came down to visit." She explained
"oh word? Well if yall want to have a good time me and a couple of my friends are having a chill session at my house. Just some music food and a lil' smoke if yall want to swing through." He said
Tonya looked back briefly for validation but decided she didn't need it. 
"Dope. Well be there." She smiled. 
"sweet. Well I have your snap so ill just text you the information and ill see you ladies later."
"what the hell tonya!" Leila said. Obviously irritated. 
" What? You guys were the ones who said you wanted to have some fun. That's what we're going to do. Now come on lets get ready." 
The girls made it to Tonya's apartment. It wasn't 30 minutes before Bryan had sent Tonya a text that read: 
Just saying we're down for anything. We wouldn't mind having a little more fun with you beauties ?
The girls started dying laughing. Bryan was cute and all, but no way was any of them letting him touch them. Tonya said he knows how to run his mouth. 
"wait, I have an idea." Tonya said mischievously.
She responded:
We don't have a problem either baby. Lets see what happens when we get there."
"Tonya, what are you doing." Arci said puzzlingly.
"ok listen, you remember how I said his daddy is rich right? Well I've been at his house before. He has a shoe box full of money in his closet. He showed it to me while he was drunk. And his dad is a drug dealer so, tonight when we go there, we trick them into getting drunk and make them think were going to go there with them. And then, one of us goes in his room to empty the box and grab some of his dads stash and we're out of there." 
" Bitch, how dumb can you be! " Arci said, " You a special kind of stupid. You don't think he'll know it's us?' 
"no, he started hanging with this new guy and no doubt he'll be over there. He'll be so tripped out and paranoid he'll think it's him."
"I say fuck it" Leila shrugged. 
Arci looked at them both unsure, but she couldn't be lame so she agreed. 
The girls went over the plan to make sure it was full proof. Leila would go to Bryans room to get the box and look for any drugs while Arci and Tonya were wooing the boys. 
The girls got ready and looked like money. They accentuated their body's perfectly. They were really going to do the thing
They were at bryans house in no time. They all looked good and were ready.
" Hey whats up! Bryan said hugging each of them as he welcomed them in. Being a little more handsy with Leila. She was going to have a blast robbing him, she thought
" these are my boys Rj and james."
Each of them said hi then whispered and smirked about something. They thought they were going to get lucky. But little did they know, they were out of luck.
After the introductions were made, the bottles and blunts started popping out. It only took a few hours before the boys were obviously Lit and horny. This was the perfect time for Leila to slip away and Tonya made that known by sitting on Bryans lap and biting his ear, which was the signal.
"I have to use the bathroom real quick. " leila said.
"ok it's in the back the first door to the left." Bryan pointed obviously distracted.
"hurry back" James said. 
Leila was smart and picked up Rj's phone to take a picture of Bryans room on snapchat to cause some suspicion. 
The box was right where Tonya said it would be. She quickly swiped the money in her purse and went to the next room. She found a Ziploc full of marijuana under a dresser, hidden well. She took that too and dipped.
She then sent the signal she was done.
The girls stayed for another 30 minutes before Arci made the excuse she wasn't feeling good and wanted to go, and the boys who realized they weren't getting any play, didn't do too much objecting. They left feeling triumphant at their earnings and the girls really decided to celebrate. They popped open a bottle and got to it. Everything was good until the next morning when Tonya received a text from Bryan that read: 
You almost had it figured out. You almost had me bitch. But you forgot about the the camera in the hallway. You better pray hoe.
"Shit." Tonya whispered as she read the message.
She didn't know how to get out of this one..
Arci and Leila were knocked out while Tonya had never been more awake. She couldn't believe she forgot about the camera. She also couldn't believe she just put her cousins in so much danger. She had one job and she failed. Tonya started figuring out how to fix this. They still had most of the weed. They blew a lot of the money last night after they did the set up. She could do a payment plan. Who was she kidding; you can't do a payment plan with a drug dealer and his money hungry son. She's surprised they're not all dead yet. Leila and Arci were still sleeping. They would probably be out for a while due to the hangover. That gave her some time to figure this all out. She sent a text to Brian:
Meet me at the alley, I'll give you everything back. I don't want any problems after this
Brian responded quicker than she expected:
I'll meet you at the alley but you owe me an extra $500 for being slick. And it better all be there, or it will be a "problem" 
"five hundred!" Tonya whispered to herself. She didn't even have all the money she needed in the first place. T knew she wasn't going to get away with it without things getting messy. So why not strike first? She called the same guy who gave her the drugs they used to set up the crew to see if he had a gun. Of course, he did.  Tonya made a plan. She was going to put the weed and the money in the same bag and when Brian went to check it, she'd end all this shit. It would just have to work. She got the money to rent the gun together and started heading out. Brian was going to be at the alley in 30 minutes, so she had to be quick.  Just as she was about to leave Leila woke up with a groan. 
"yo , tee do you have any Aleve? My head is pounding. "she said. 
"Yeah, it's in the medicine cabinet in the bathroom. I'm about to go get something to eat. Ill be right back. Keep the doors locked."
"Yeah yeah whatever," Leila moaned, "Just bring me back a burger."
"I want some nuggets!" said Arci.
"ight, love y'all" Tonya called back.
"love you too." They said simultaneously.
Tonya pulled up the the alley. The alley was the place her and Brian first started to chill at. It was very discrete and hidden so it made it easy to do this.
Tonya got her stuff ready and soon enough, Brian showed up. Thankfully he was by himself.
" you got my money?' Brian said roughly
He was on the phone with someone. This was definitely going to mess the plan up. 
"y-yeah its all there." Tonya threw the bag over to Brian.
as he went down to check it she pulled the gun
"hang up the phone right now."
Brian laughed," you don't want me to do that. Might be the last time you hear from your little cousins."
The world stopped around Tonya.
Brian put the phone on speaker and sure enough she heard Arci and Leila screaming for help. 
" You fucking Bitch!" Tonya screamed. 
"what? You thought I was going to let you come here and not take collateral? You should know me better than that baby."
Tonya became pissed and shot brian in the leg: she instantly regretted her decision.
Who ever it was on the phone let out a round of shots. There was nothing but silence. Who ever was on the other line had killed her cousins. She didn't know what she was going to do. But she did.
She shot Brian  in his chest, then in his head, then in the chest again. She emptied the clip. She was heartbroken. What had she done. This was supposed to be the girls perfect summer. And she ruined it. Tonya didn't know how she was going to live with herself. She would've taken the burden off of her if she didn't empty all the bullets. She had to go now. She didn't know where, but she had to leave.