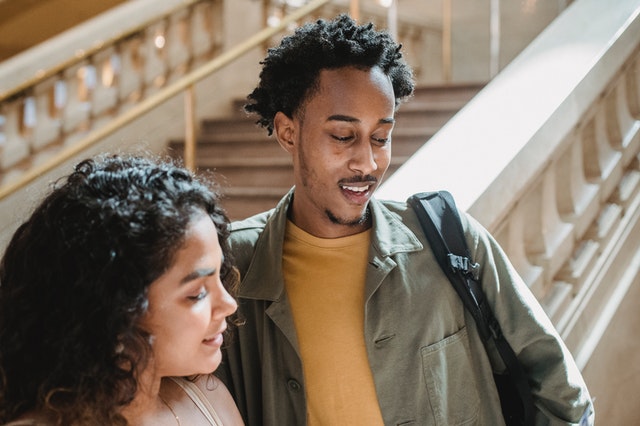 Sammy was the one who made me come to this, and now I was sitting here enduring the WORST fifteen minutes of my life. I didn't wanna speed date. I didn't wanna date in GENERAL. I never wanted to be that ex. The one who moved on as fast as a dog snags dropped food off the floor.
I wasn't like that, and I didn't want Asher to think I was one either. But still, I was here…wearing one of Sammy's pretty floral dresses, makeup and hair done…waiting for guys to switch out of their seats.
My eyes had been on my watch all night, waiting for the hour to be over. I really didn't wanna be here, and In passing the movie theater on the way to Ducks Coffee, I'd contemplated taking in the new vampire film, and then pretending like I went to this lame show.
But, Sammy had told me to at least get everyone's number.
The last guy looked like an onion if an onion was a person, so my eyes were down on my phone when the next guy slid into the seat across from me.
Just as I tap the delete contact button on the number Mr.Onion had entered in, I hear my name.
"Elise?"  My head snaps up. My heart stops, and my phone slips from my hands into my lap.
"Asher." My ex, with his pretty black hair, and super hot tattoos sat across from me, and even he looked a little on edge.
"What are you doing here?" I say, a blunt edge to my tone.
He blinks, body still, "I'm um…speed dating?"
Was this angry fire within me seriously necessary? I mean, we hadn't ended things badly but we still ended…he could date.
"I know it's only been a month but I-"
"It's fine." I say, re-situating in my seat, I reach for my purse hanging off the back of my chair, "I was just leaving anyway."
"Elise it's really not personal I just-"  "You don't need to explain…or give whatever stupid excuse you're about to give." I stand, throwing my purse over my shoulder, "We're done. Have been, plus I'm here too." He tilts his head, worry in his eyes as he watches me grab my jacket, "Obviously you don't want to be." I bite my lip, "Sammy made me come."
He pauses for a moment, and then sets his phone down on the table.
"How come? We all know you mock these types of things." Swallowing past the lump forming in my throat I stare him down, eye contact being surprisingly easy to hold.
"Why am I explaining myself to you again? You lost that privilege. I may not want to be here, but you do." It's almost as if he's not even trying to hide the fact that my words are hurting him, because his face twists up with guilt.
He has always been vulnerable with me but I'd figured he'd cover that part of him up along with deleting my number in his phone.
"Ma'am can you finish your round please? We have two more and then we'll be finished…it will help our process run smoother." The woman who'd seated me and gave me my number is watching me but I haven't taken my eyes off of Asher. It was always hard to. Still is. 
Pressing my lips together I look to her, send her a smile and sit down.  She walks away satisfied.
"I'm really sorry for how things ended El-"

"Don't," I bite, "call me El…ever again."
I didn't realize how mad I'd been until my tone caught up to me. He swallows hard and sits back from where he's leaned forward. We're silent for a few minutes, my mind stuck somewhere between wanting to run away and wanting to send him a death glare for the rest of the night.
He looks up from his lap, "I really am sorry. I don't hate you." Without warning my eyes heat up, and tears begin to form.
No no no no no.
I sniffle in hopes they'll leave me alone, but they only grow quicker.
"Yanno what, while I'm here…you know I'm straight forward…" he starts. I watch him lean forward and lower his voice, "I made a pact I wouldn't hide anything from you anymore. So…I'm still in love with you."
It's those words that open the flood gates. As if his words are a spell, tears roll down my face and I wipe at them frantically, as if speed will keep him from seeing me breakdown.
That was all I'd wanted to hear for weeks. That's all I wanted to hear when I walked out his front door for the last time.
I still love you. I love you…I want you. Something. Anything besides, "you're just too much for me."
My lip quivers and I bite the inside of my cheek, willing the tears to stop…but they don't.
"In all honesty," he continues. "I thought you were too much for me to keep up with until you left and suddenly I had no one there."
He lays his palms out flat on the table, it shakes a little bit under him.
I close my eyes.
I still loved him, and me sitting here…only confirmed that. I didn't even wanna come to begin with, and it wasn't because I hated this method of finding love…it was because I didn't want any other kind of love.
"You're familiar to me," he whispers, "I got too used to you being there. I took you for granted, and I've felt like shit since realizing that."
I try to swallow, my throat feeling dry, but instead a weird sound comes out.  I take a deep breath and find that his eyes are shiny.
I hear my voice shake, "Why didn't you just appreciate me?"
The timer goes off. Our fifteen minutes are up. It had passed faster than I thought it would…and honestly I didn't even want him to leave.
He looks away from me, down to the floor. Then he looks back up, "I still have your number saved."
And just as fast as he'd come, he left…onto another girl who looked a little worried about Asher.
She oughta be. The only time I saw him cry was last year…when his parents finalized their divorce.
I wet my lips and find the face of the boy who's now sitting in front of me. Only, I can't focus on anything he's saying…because all I want to do is talk to Asher.
"I'm sorry…would you excuse me?"
Before, boy after Asher, can say anything I'm up and out of the coffee shop. I find my phone, pulling it out of my pocket.
Opening Sammy's contact I hit call and let the rings fill my ears.
 I count, focusing on each one.
I'm at four when a hand slips around my waist.
"Elise please don't leave."
His body is so familiar behind mine…from the hundreds of times he's given me hugs from behind. So familiar that my body relaxes into his and I begin to cry.
Asher takes my phone and hangs up before Sammy can answer.
"Shh, I'm here." he whispers.  Without me realizing he leads us over to a bench and sits me down next to him.
When I'm sitting I scoot a ways away from him.  Scolding myself for letting him be that close to me.
"I'm so so sorry." he says, and he's practically reaching for me…I can feel it. The hurt in his heart.
"I'm so sorry, I never wanted to lose you."
Speed dating is so awful. For many reasons, but now I've had my own experience, and I can say for a fact it is as confusing as it seems. All those people in your phone, only to text none of them the next day.
I take a deep breath. All these feelings, and tomorrow…I'd probably regret showing them.
"What can I do? Please tell me how I can make it better."
 Go back in time and DON'T leave me.
"I don't know." I manage, my voice still as uneven as the sidewalk in front of us. I let my gaze trace the cracks in the cement.
I didn't know what I wanted. I didn't know what could make it better.
All I know is I hated that night. The night he'd pushed me away. The night I'd driven home in silence, shock paralyzing me. 
Now, I was sitting here on a park bench with him…watching his broken pieces expose themselves, and he was watching mine. 
Story By Guest Writer Katheryn Frederick – Miss Aloha Hawaii
instagram: @katheryn.frederick
Photos by William Fortunato from Pexels