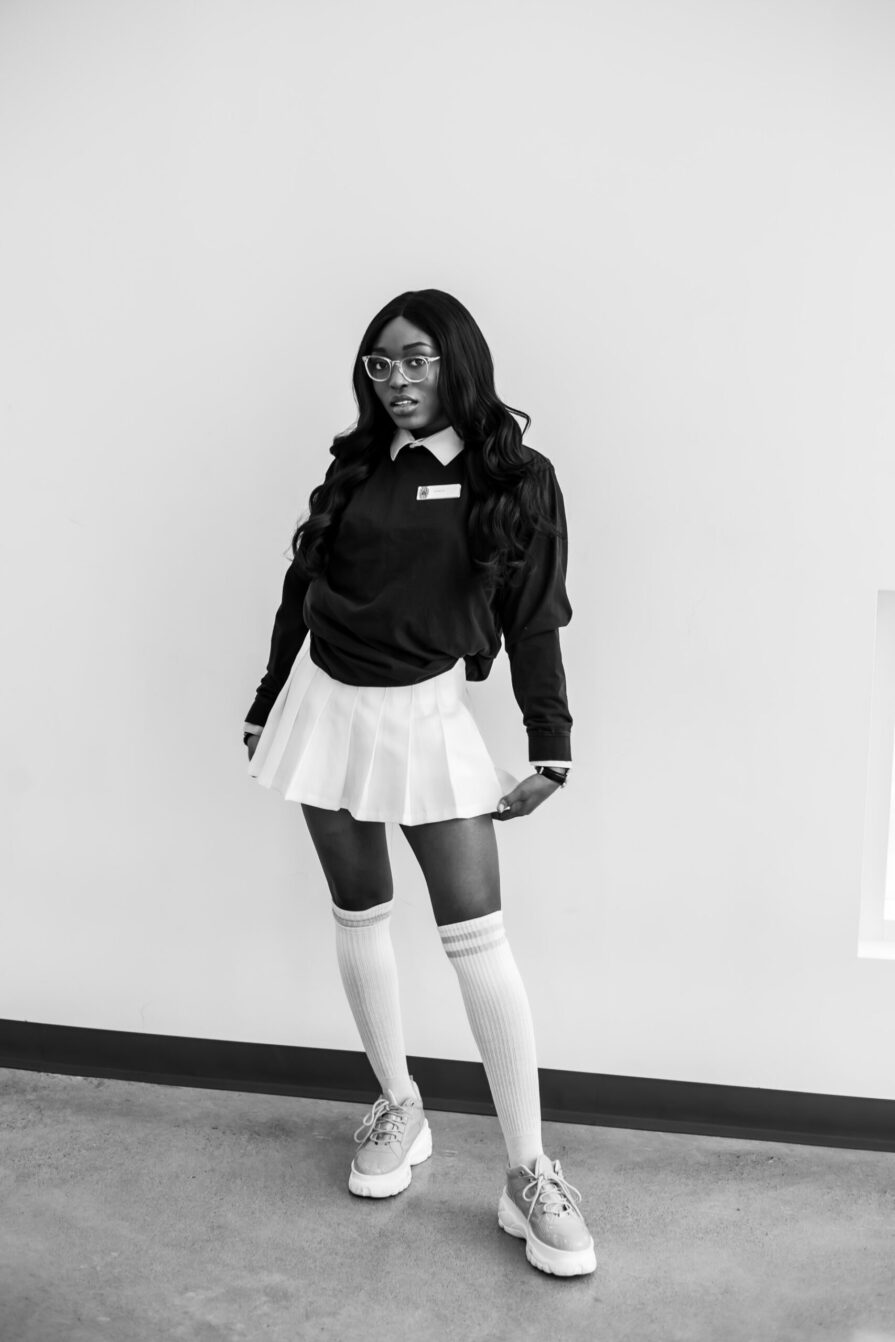 It all started sophomore year. The day that would change these group of teens lives, and perhaps take them in the process. Let me catch you up. It started at the biggest back to school party the block has ever seen. Booming high school's school year was about to be back in gear and the kids were enjoying their last week of freedom. Mercedes and Trinity were getting ready for their night out. The girls were ecstatic not to be the bottom of the totem pole anymore. They were about to pop out and let all the upper classmen and incoming freshman know that they were ready to kill it this year.  Mercedes was looking cute to impress Jacob, her boyfriend. They've been distant lately and she wanted to remind him how special she was. Trinity was just there because she really had nothing to do and since Mercedes was her best friend, she was always down for whatever with her. 
They got to the party and things were already popping. The playlist had all the summers best hits, you could smell the weed from down the hall, and there were so many cuties. Trinity could already tell she was about to have the time of her life, but Mercedes was having a tough time trying to find her boyfriend. She kept looking at her phone to see if she had got a text back, but she realized Jacob had left her on seen hours ago.  Trinity felt her vibe was off when she invited her to go dance to their favorite song. 
" Cedes, please tell me you are not trippin over that dude right now." Trinity said annoyed.

"Look!," Mercedes whined as she showed Trinity her phone, " He left me on read and all I wanted to know was if he decided if he was coming here tonight  or not."

" Well, obviously he showed you he didn't care, so you shouldn't either. Now come on, this is our song and I want to dance with my best friend."
Mercedes smiled at trinity and they hit the floor. They were having fun being their goofy selves when Trinity had noticed Jacob in the corner grinding with another girl.  She didn't know how to keep Mercedes from seeing it so she hurried up and made an excuse.
" Aye, its kind of hot,  do you want to go grab a drink real quick." Trinity said nervously.
" Yeah, sure. Lets go." 
They were walking to the drink table when " Bodak Yellow " had come on. 
" Yeooo, This is my shit!" Mercedes yelled as she turned around to go back to the dance floor. At that moment she saw what trinity was trying to keep her from seeing. Her heart fell instantly. The boy she was in love with was boo'd up with the school thot. 
She ran to the bathroom and Trinity was right on her heels.
Mercedes broke out in tears while Trin hugged her.
"How could he do that to me , Yo? I do everything for him. She's not even cuter than me." Mercedes cried out.
" You want me to hit that hoe, cause I will." Trinity said nonchalantly.
" I just don't understand. That's probably why he's been choosing up lately and acting like I don't exist." 
"that's his fault mama. You cant keep putting yourself through this." 
The girls sat and talked about it for a while until they were interrupted by a loud bang.
" Yo! The cops are on their way. One of the neighbors snitched."
The girls looked at each other and started fixing Mercedes up before she left., If she was going to be single, she might as well look good. 
Once they came out, they found themselves lost in the huge, empty  house. Daren's huge ,empty house.
" Wait, look at the stars. " Trinity squealed like a little girl and dragged Mercedes to the balcony to look at the night sky. 
They turned around when they heard giggles. It was Destiny, who was the girl Jacob was dancing with, and her best friend Jessica. 
Mercedes mood automatically flipped. 
"what's so funny?" She said
" Ya know, just the fact that you're still here after it was made pretty clear you probably should've gone home. " Destiny smirked
"yeah, and your dad should've worn a condom, so it looks like not everyone gets the memo. "Trinity said in her best friend's defense.
"Girl shut up, that's why your weaves stiff." Jessica clapped back.
"But really, we can get it poppin so what's good?"  Mercedes said.
At that point Jacob and his best friend Daren walked on the balcony.
"What's going on back here? "Daren said worried. He already knew the situation.
Destiny looked back at Jacob, looked at Mercedes, cracked a smile, the grabbed Jacobs arm
"Honey, you're just mad cause I've been sleeping with your man." 
"Oh shit," Daren said, "Here we go."
"Jacob, you've been having sex with this bitch?"
Jacob stood their looking stupid.
"Who are you calling a bitch, though" Destiny said.
Mercedes felt her blood boiling and she did not know what to do. She had never felt so disrespected and humiliated in her life. She felt her body go numb and next thing she knew she had punched Destiny square in her jaw. It turned into a wrestling match with chants from Trinity and Jessica while Daren and Jacob urged the girls to stop. Mercedes had Destiny on the railing to the balcony and as they continued to fight suddenly there was a creaking sound and then a scream.  Destiny had fallen off the balcony. Mercedes sat their stunned while everyone stood around her silent.
"What the fuck did you just do?" Jessica said in panic, " We have to call the cops."
"No! We can't do that. My mom would kill me!" Darren said.
" Well we got to do something!" Jessica said pulling out her phone to call 911. 
Out of nowhere, Daren had pushed Jessica off the balcony and she landed lifelessly next to Destiny.
"why did you do that? "Jacob said in shock.
"I can't go down like this Jacob. This wasn't even my idea to have the party." Daren whispered.
Everybody looked at each other. They didn't know who to trust.  They all decided they needed to get the bodies cleaned up, so they rushed down stairs. They had followed the instructions of a "How to Get Away with Murder" Twitter thread, then disposed of the remaining parts of the body in a land mine not too far away.  They vowed to never talk about it to anyone. And if anyone asked, the girls had left with two dudes they brought with them to the party. The secret was too much to bear and ended up ruining everyone's relationship. Mercedes and Jacob broke up, Trinity and she had got into a big argument over whose fault that night was, and they never talked again. Jacob never trusted Daren after what happened at the party, so they fell off. They all never talked again, until their senior year of high school when the case was reopened. A witness said they had seen Jacob and Destiny dancing together right before the party got busted and this made the police want to look at everything again. Jacob made a group chat with everyone to discuss it. They talked about what to do if the police had wanted to question anyone else. They discussed that when Jacob was interviewed he'd say they danced but then the guy she came with got mad and broke it up. The rest of the group messages went like this:
Trinity: I think we should just go to the police and tell them Daren did it. It was his house, his party, and he pushed Jessica.
Jacob: No way, bro! If he finds out, he'd kill us just like he did Jessica.
Mercedes: It would be a good idea. I think we should go too. It would be three against one and we can say he threatened us to keep quiet
Jacob: I don't know guys. Let's talk about it tomorrow.
Jacob got a text from Daren. 
Daren: hey don't worry about anything. I got the whole situation handled. We'll figure it out tomorrow.
The next day, Mercedes mom woke her up to some unsettling news. Darren had killed himself and confessed to the murder of both girls. He wrote in a suicide note it was too much to deal with and he's sorry to anyone he had hurt. 
At school, everyone was shocked. They couldn't believe it. And they had a reason not to.